Date
Aug 26 2022

- Sep 08 2022
Expired!
ALI & AVA
Sparks fly as two people develop a deep connection despite the lingering legacy of past relationships.
Both lonely for different reasons, Ali and Ava meet through their shared affection for Sofia, the young child of Ali's Slovakian tenants, whom Ava teaches. Ali finds comfort in Ava's warmth and kindness and Ava finds Ali's complexity and humour irresistible. Over a lunar month, sparks fly and a deep connection begins to grow. However, the legacy of Ava's past relationship and Ali's emotional turmoil at the breakdown of his marriage begins to overshadow their newfound passion.
Enveloped in music and imbued with humour, ALI & AVA is a compelling contemporary love story written and directed by BAFTA-nominated Clio Barnard (The Arbor, The Selfish Giant, Dark River).
Adeel Akhtar, Claire Rushbrook, Ellora Torchia, Shaun Thomas, Natalie Gavin, Mona Goodwin
HEARING AND VISUAL ASSISTANCE
Assisted Listening
Subtitled/Open Captions
Descriptive Audio
English with English subtitles
Many of the films shown at The Ross are not rated due to the prohibitive cost of acquiring a rating from the Motion Picture Association of America. Consequently, as many of these films contain graphic content, viewer discretion is advised.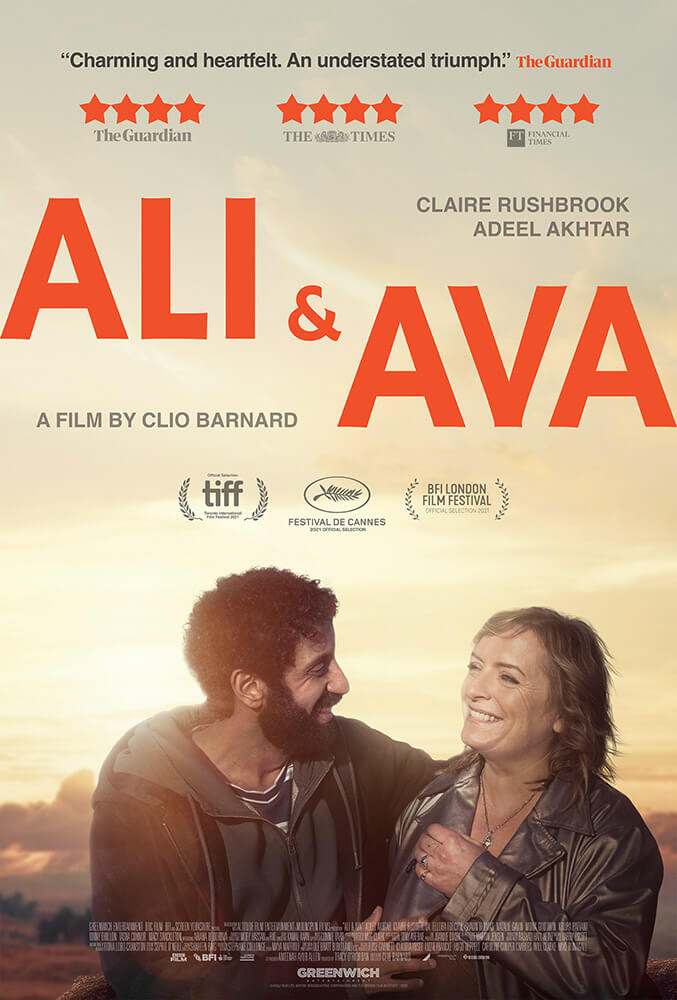 1:00, 3:05, 5:10, 7:15, 9:20 p.m.
1:00, 3:05, 5:10, 7:15, 9:20 p.m.
1:00, 3:05, 5:10, 7:15, 9:20 p.m.
1:00, 3:05, 5:10, 7:15, 9:20 p.m.
"It's a tender and, eventually, joyful film, powered by two extraordinarily lived-in performances from Akhtar and Rushbrook. "
"Akhtar imbues Ali with such an aliveness, an electric joyfulness teetering on the edge of sorrow, that he is a whole enough character to fill any unintentional gaps. "
"Ali & Ava has an undeniable and attractive glow of authenticity."
EVENING PRICES
$12.00 | Adults
$9.50 | Students
$8.75 | Children
$8.50 | Military
$8.75 | Seniors
$6.50 | Members
$5.00 | UNL Students
MATINEE PRICES
$10.00 | Adults
$9.00 | Students
$8.25 | Children
$8.00 | Military
$8.25 | Seniors
$6.00 | Members
$5.00 | UNL Students
Matinee priced tickets for all screenings TUESDAY and WEDNESDAY nights
Showtimes change on a regular basis and will not always be the same each day. Visit the individual film pages for a list of showtimes.
Children are 12 and under. Seniors are 60 and older
Students and Military must show a valid ID to receive discount
We accept cash, check, NCard, Visa, and Mastercard
The Ross Box Office opens 30 minutes before the first screening of the day
Assistive listening headsets and closed caption devices available for select titles. Check the individual film pages or inquire at the box office for details.