Date
Nov 29 2022
Expired!
CONCERT FOR GEORGE
A one-night-only event celebrating the 20th anniversary of the Concert for George, a star-studded 2002 concert honoring the music of George Harrison.
On November 29, 2002, one year after the passing of George Harrison, Olivia Harrison and longtime friend Eric Clapton organized a performance tribute in his honor. Held at London's Royal Albert Hall, the momentous evening featured George's songs, and music he loved, performed by a lineup that included Clapton, Joe Brown, Dhani Harrison, Jools Holland, Jeff Lynne, Paul McCartney, Monty Python, Tom Petty, Billy Preston, Ravi and Anoushka Shankar, Ringo Starr and many more.
Directed by David Leland (whose credits include the feature Wish You Were Here, HBO's Band Of Brothers and the Traveling Wilburys video "Handle With Care"), CONCERT FOR GEORGE captures stunning renditions of some of the most significant music of the 20th century, including "While My Guitar Gently Weeps" (featuring Clapton on guitar, McCartney on piano and Starr on drums), "Taxman" (performed by Tom Petty and the Heartbreakers) and "The Inner Light" (covered by Jeff Lynne and Anoushka Shankar). Lynne, Harrison's longtime friend and collaborator, produced the audio elements of the concert, while Clapton oversaw the entire proceedings as Musical Director.
CONCERT FOR GEORGE has been certified 8-times platinum by the RIAA since its initial release as a 2-DVD set in November 2003 and earned a 2004 Grammy® Award for Best Long Form Music Video.
TUESDAY, NOVEMBER 29 – 7:00 P.M.
Assisted Listening Devices Available
Tickets for the screening are at Regular Ross Prices
The Tuesday/Wednesday all-day-matinee prices will not apply to this screening
Many of the films shown at The Ross are not rated due to the prohibitive cost of acquiring a rating from the Motion Picture Association of America. Consequently, as many of these films contain graphic content, viewer discretion is advised.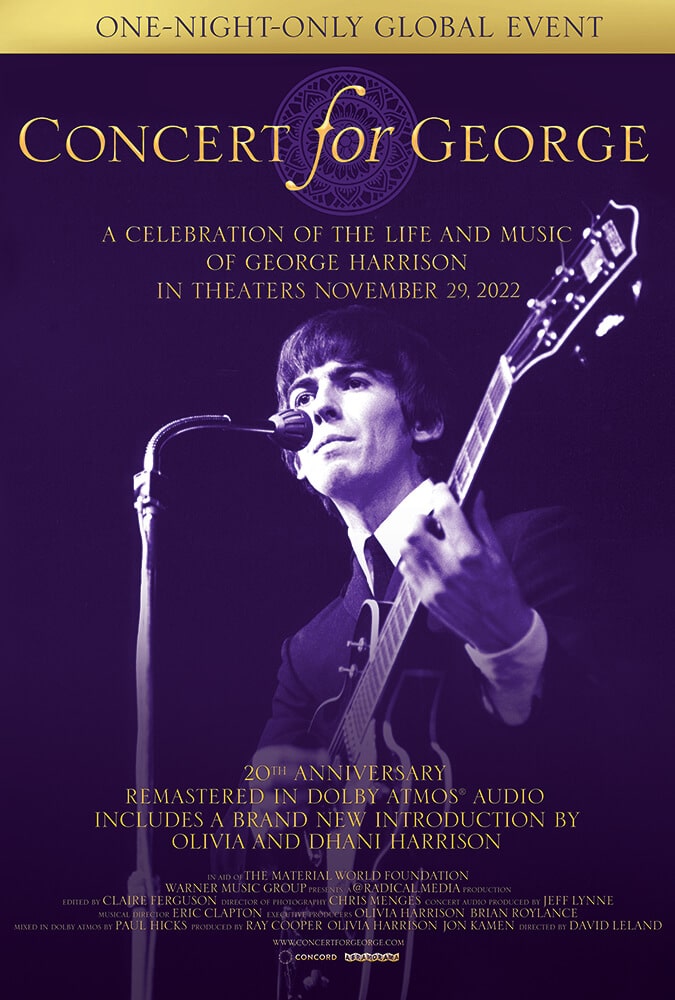 "The sweet, solemn music of George Harrison… has rarely sounded more majesEc than in the sweeping performances of the enlarged star-studded band that gathered in London at Royal Albert Hall on Nov. 29" 
"The fondness that everyone in Eric Clapton's all-star band has for the former Fab shines throughout a tribute that retains the sincerity and simplicity of Harrison's music." 
"It's hard to think of a more fiRng tribute to a man who, despite being in the world's biggest band, spent so much of that Eme in the shadows of his fellow players. George's songs take centre-stage here, lovingly arranged by musical director Eric Clapton to accommodate as many famous friends as possible." 
EVENING PRICES
$12.00 | Adults
$9.50 | Students
$8.75 | Children
$8.50 | Military
$8.75 | Seniors
$6.50 | Members
$5.00 | UNL Students
MATINEE PRICES
$10.00 | Adults
$9.00 | Students
$8.25 | Children
$8.00 | Military
$8.25 | Seniors
$6.00 | Members
$5.00 | UNL Students
Matinee priced tickets for all screenings TUESDAY and WEDNESDAY nights
Showtimes change on a regular basis and will not always be the same each day. Visit the individual film pages for a list of showtimes.
Children are 12 and under. Seniors are 60 and older
Students and Military must show a valid ID to receive discount
We accept cash, check, NCard, Visa, and Mastercard
The Ross Box Office opens 30 minutes before the first screening of the day
Assistive listening headsets and closed caption devices available for select titles. Check the individual film pages or inquire at the box office for details.