Date
Mar 04 - 10 2022
Expired!
DEAR SIRS
After discovering an archive detailing the horrifying journey of his grandfather as an American POW during World War II, a young man from Wyoming sets out 75 years later to retrace his footsteps across Germany.
Filmmaker Mark Pedri had never heard his grandfather Silvio's story despite spending nearly every day together for 10 years. It wasn't until after Silvio's death that Mark found an archive of old photos, letters, and documents detailing Silvio's journey as a Prisoner of War (POW) in World War II. The discovery inspired Mark to bike over 500 miles across Europe, following the original Prisoner of War transportation routes, in an effort to tell his grandfather's story and better understand the man who helped raise him.
The Norman A. Geske Cinema Showcase presents director Mark Pedri and producer Carrie McCarthy, who will join the audience for a Q&A following the 7:30 p.m. screening of DEAR SIRS on Friday, March 4. 
Mark Pedri, Carrie McCarthy
Burning Torch Productions
Hearing and Visual Assistance
Many of the films shown at The Ross are not rated due to the prohibitive cost of acquiring a rating from the Motion Picture Association of America. Consequently, as many of these films contain graphic content, viewer discretion is advised.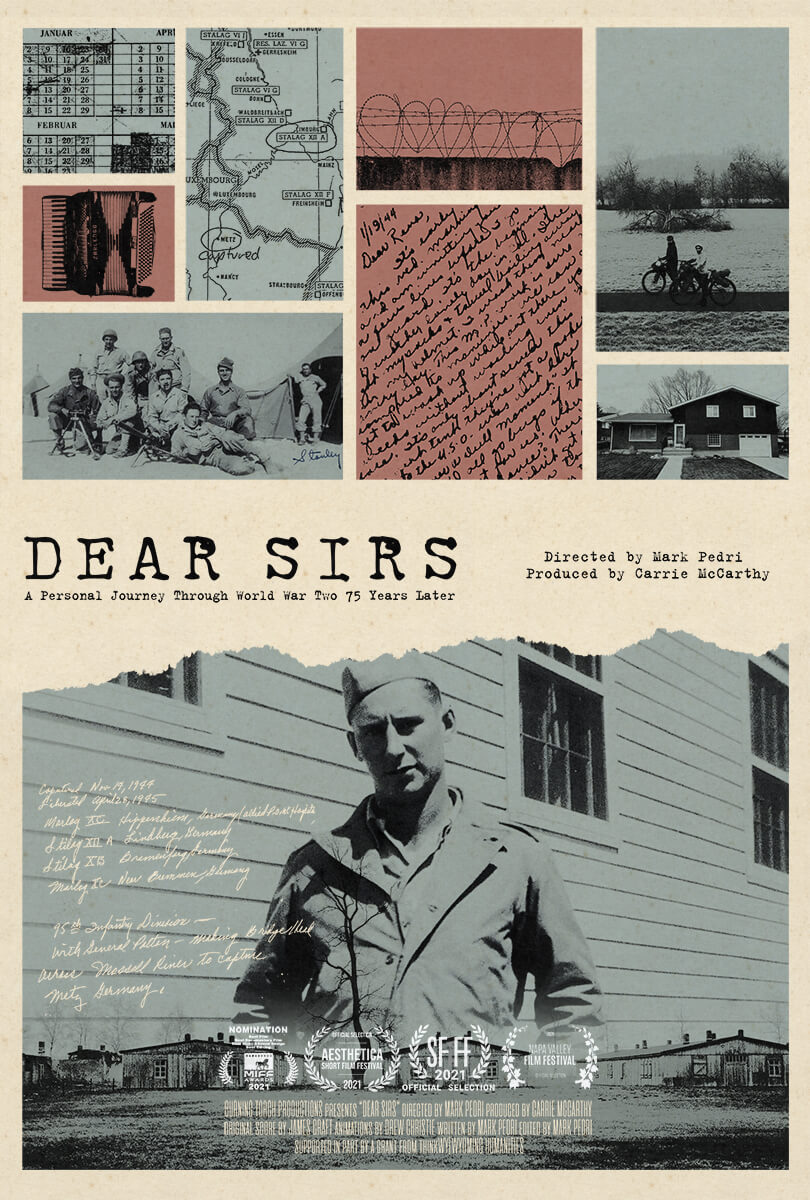 12:50, 2:55, 5:00 7:05, 9:10 p.m.
12:50, 2:55, 5:00, 7:05, 9:10 p.m.
EVENING PRICES
$12.00 | Adults
$9.50 | Students
$8.75 | Children
$8.50 | Military
$8.75 | Seniors
$6.50 | Members
$5.00 | UNL Students
MATINEE PRICES
$10.00 | Adults
$9.00 | Students
$8.25 | Children
$8.00 | Military
$8.25 | Seniors
$6.00 | Members
$5.00 | UNL Students
Matinee priced tickets for all screenings TUESDAY and WEDNESDAY nights
Showtimes change on a regular basis and will not always be the same each day. Visit the individual film pages for a list of showtimes.
Children are 12 and under. Seniors are 60 and older
Students and Military must show a valid ID to receive discount
We accept cash, check, NCard, Visa, and Mastercard
The Ross Box Office opens 30 minutes before the first screening of the day
Assistive listening headsets and closed caption devices available for select titles. Check the individual film pages or inquire at the box office for details.