Date
Sep 16 - 29 2022
Expired!
EMILY THE CRIMINAL
Saddled with student debt and unable to find work, a college graduate (Aubrey Plaza) becomes involved in a credit card scam, acting as a dummy shopper and buying increasingly risky products with stolen credit cards.
Emily (Aubrey Plaza) is saddled with student debt and locked out of the job market due to a minor criminal record. Desperate for income, she takes a shady gig as a "dummy shopper," buying goods with stolen credit cards supplied by a handsome and charismatic middleman named Youcef (Theo Rossi). Faced with a series of dead-end job interviews, Emily soon finds herself seduced by the quick cash and illicit thrills of black-market capitalism, and increasingly interested in her mentor Youcef. Together, they hatch a plan to bring their business to the next level in Los Angeles.
Aubrey Plaza, Theo Rossi, Jonathan Avigdori, Kim Yarbourgh, Gina Gershon, Bernado Badillo
HEARING AND VISUAL ASSISTANCE
Assisted Listening
Descriptive Audio
Closed Captioning
for Brief Drug Use, Some Violence, Language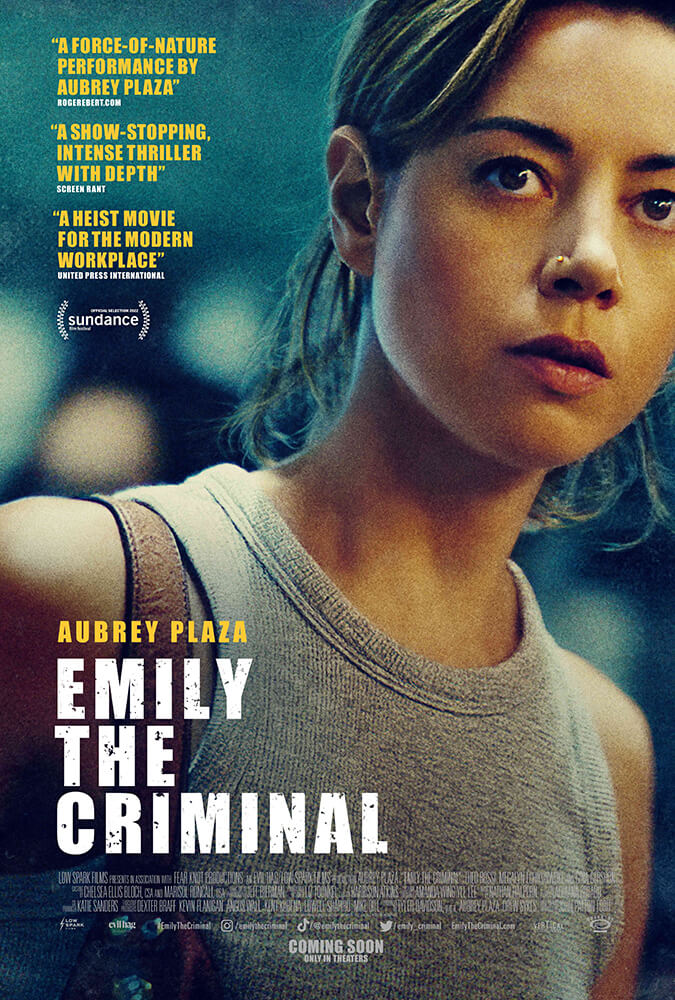 12:40, 2:50, 5:00, 7:10, 9:20 p.m.
12:40, 2:50, 5:00, 7:10, 9:20 p.m.
12:40, 2:50, 5:00, 7:10, 9:20 p.m.
"But if Emily the Criminal isn't always successful as a genre exercise, it's thoroughly gripping as a portrait of a woman always operating in survival mode."
"A gritty and suspenseful LA noir that also serves to examine the structural issues that uphold wealth inequality in this country. But Emily the Criminal isn't trying to be preachy or political; it's just authentic, and urgent. "
"One of the pleasures of Plaza's performance is the way she shows us a person working out her fight-or-flight instincts in real time, and in ever more dangerous transactional situations."
EVENING PRICES
$12.00 | Adults
$9.50 | Students
$8.75 | Children
$8.50 | Military
$8.75 | Seniors
$6.50 | Members
$5.00 | UNL Students
MATINEE PRICES
$10.00 | Adults
$9.00 | Students
$8.25 | Children
$8.00 | Military
$8.25 | Seniors
$6.00 | Members
$5.00 | UNL Students
Matinee priced tickets for all screenings TUESDAY and WEDNESDAY nights
Showtimes change on a regular basis and will not always be the same each day. Visit the individual film pages for a list of showtimes.
Children are 12 and under. Seniors are 60 and older
Students and Military must show a valid ID to receive discount
We accept cash, check, NCard, Visa, and Mastercard
The Ross Box Office opens 30 minutes before the first screening of the day
Assistive listening headsets and closed caption devices available for select titles. Check the individual film pages or inquire at the box office for details.