FALLEN LEAVES
A gentle tragicomedy from director Aki Kaurismäki, following two lonely people who meet each other by chance and try to find the first, only, and ultimate love of their lives.
Fallen Leaves tells the story of two lonely people (Alma Pöysti and Jussi Vatanen) who meet each other by chance in the Helsinki night and try to find the first, only, and ultimate love of their lives. Their path towards this honourable goal is clouded by the man's alcoholism, lost phone numbers, not knowing each other's names or addresses, and life's general tendency to place obstacles in the way of those seeking their happiness.
This gentle tragicomedy, previously thought to be lost, is the fourth part of Aki Kaurismäki's working-class trilogy (Shadows in Paradise, Ariel, and The Match Factory Girl).
Alma Pöysti, Jussi Vatanen, Janne Hyytiäinen, Nuppu Koivu
HEARING AND VISUAL ASSISTANCE
Assisted Listening
Subtitles / Open Captions
Finnish and Arabic with English Subtitles
Many of the films shown at The Ross are not rated due to the prohibitive cost of acquiring a rating from the Motion Picture Association of America. Consequently, as many of these films contain graphic content, viewer discretion is advised.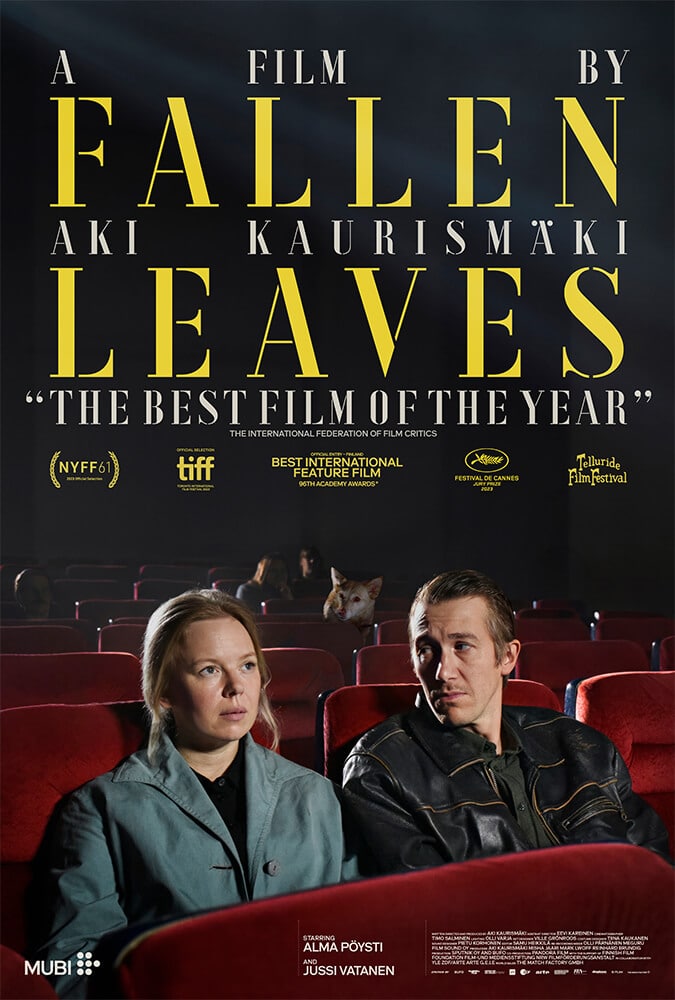 "The most consistent filmmaker working today might be Aki Kaurismäki, the Finnish master who produces a soft-spoken and mordant comedy every six years or so and never, ever misses the mark. Even by his high standards, Fallen Leaves is close to perfect."
"Fallen Leaves may be endowed with the spirit of a fable and the romantic sweep of a Sirkian melodrama, but its faith in our ability to find light in the darkness never feels the least bit false or naive."
"Kaurismaki fashions a gentle, profound, hopeful cinematic gem about the human condition in Fallen Leaves that is of the times yet timeless.
EVENING PRICES
$12.00 | Adults
$9.50 | Students
$8.75 | Children
$8.50 | Military
$8.75 | Seniors
$6.50 | Members
$5.00 | UNL Students
MATINEE PRICES
$10.00 | Adults
$9.00 | Students
$8.25 | Children
$8.00 | Military
$8.25 | Seniors
$6.00 | Members
$5.00 | UNL Students
Matinee priced tickets for all screenings TUESDAY and WEDNESDAY nights
Showtimes change on a regular basis and will not always be the same each day. Visit the individual film pages for a list of showtimes.
Children are 12 and under. Seniors are 60 and older
Students and Military must show a valid ID to receive discount
We accept cash, check, NCard, Visa, and Mastercard
The Ross Box Office opens 30 minutes before the first screening of the day
Assistive listening headsets and closed caption devices available for select titles. Check the individual film pages or inquire at the box office for details.