Date
Aug 12 - 25 2022
Expired!
FIRE OF LOVE
From National Geographic Documentary Films comes the extraordinary love story of intrepid French scientists Katia and Maurice Krafft, who died just as explosively as they lived — capturing the most spectacular imagery ever recorded of their greatest passion: volcanoes.
Katia and Maurice Krafft loved two things — each other and volcanoes. For two decades, the daring French volcanologist couple roamed the planet, chasing eruptions and documenting their discoveries. Ultimately, they lost their lives in a 1991 volcanic explosion, leaving a legacy that forever enriched our knowledge of the natural world. Director Sara Dosa and the filmmaking team fashion a lyrical celebration of the intrepid scientists' spirit of adventure, drawing from the Kraffts' spectacular archive. FIRE OF LOVE tells a story of primordial creation and destruction, following two bold explorers as they venture into the unknown, all for the sake of love.
Miranda July, Katia Krafft, Maurice Krafft
HEARING AND VISUAL ASSISTANCE
Assisted Listening
Closed Captioning
Some French with English Subtitles 
Brief Smoking, Thematic Material, Some Unsettling Images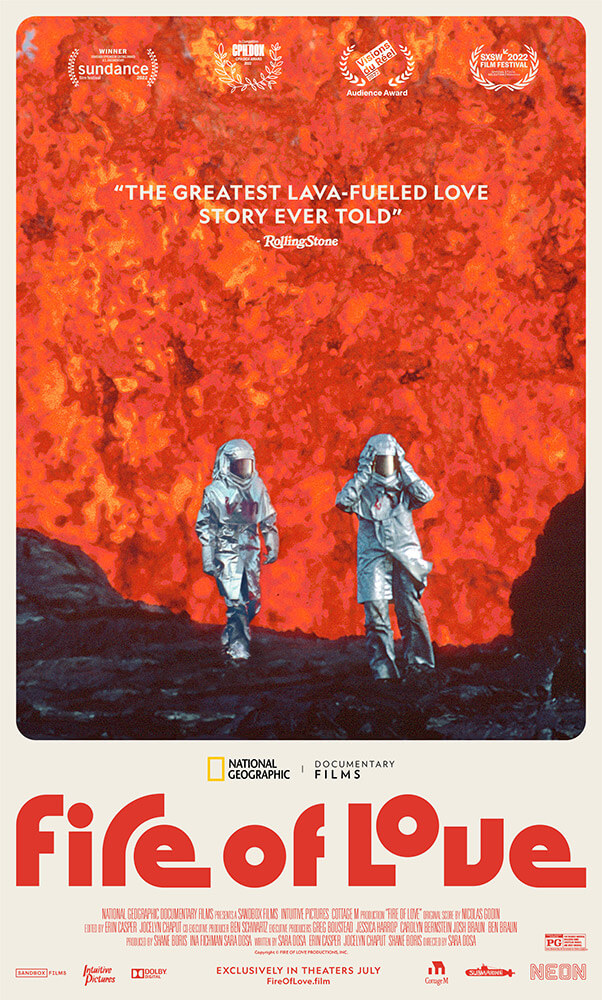 1:00, 3:05, 5:10, 7:15, 9:20 p.m.
1:00, 3:05, 5:10, 7:15, 9:20 p.m.
1:00, 3:05, 5:10, 7:15, 9:20 p.m.
1:00, 3:05, 5:10, 7:15, 9:20 p.m.
"With its quirky New Wave-adjacent cadences, Sara Dosa's sizzling Fire of Love proves that no one can narrate a fiery romance better than Miranda July's airily ethereal voice."
"This has to be one of the most heartwarming movies about scientists ever made, especially as it always honors the red-hot nature in their shared passion."
"It's a doomed love story on every level, a gorgeous collage of a film in which romance, scientific inquiry and death do a 93-minute dance."
EVENING PRICES
$12.00 | Adults
$9.50 | Students
$8.75 | Children
$8.50 | Military
$8.75 | Seniors
$6.50 | Members
$5.00 | UNL Students
MATINEE PRICES
$10.00 | Adults
$9.00 | Students
$8.25 | Children
$8.00 | Military
$8.25 | Seniors
$6.00 | Members
$5.00 | UNL Students
Matinee priced tickets for all screenings TUESDAY and WEDNESDAY nights
Showtimes change on a regular basis and will not always be the same each day. Visit the individual film pages for a list of showtimes.
Children are 12 and under. Seniors are 60 and older
Students and Military must show a valid ID to receive discount
We accept cash, check, NCard, Visa, and Mastercard
The Ross Box Office opens 30 minutes before the first screening of the day
Assistive listening headsets and closed caption devices available for select titles. Check the individual film pages or inquire at the box office for details.