Date
Sep 23 2022

- Oct 06 2022
Expired!
FUNNY PAGES
A bitingly funny coming-of-age story of a teenage cartoonist who rejects the comforts of his suburban life in a misguided quest for soul.
When Robert, a high school student and aspiring cartoonist, rejects the comforts of suburban life, dropping out and and leaving home, he finds an unwilling teacher and unwitting friend in Wallace — a former low-level comic artist — in this bitingly funny and playfully twisted coming-of-age story.
Daniel Zolghadri, Matt Maher, Miles Emanuel, Marie Dizzia, Josh Pais, Marcia DeBonis
HEARING AND VISUAL ASSISTANCE
Assisted Listening
Closed Captioning
Descriptive Audio
Language, Brief Violent Images, Graphic Nudity, Crude Sexual Content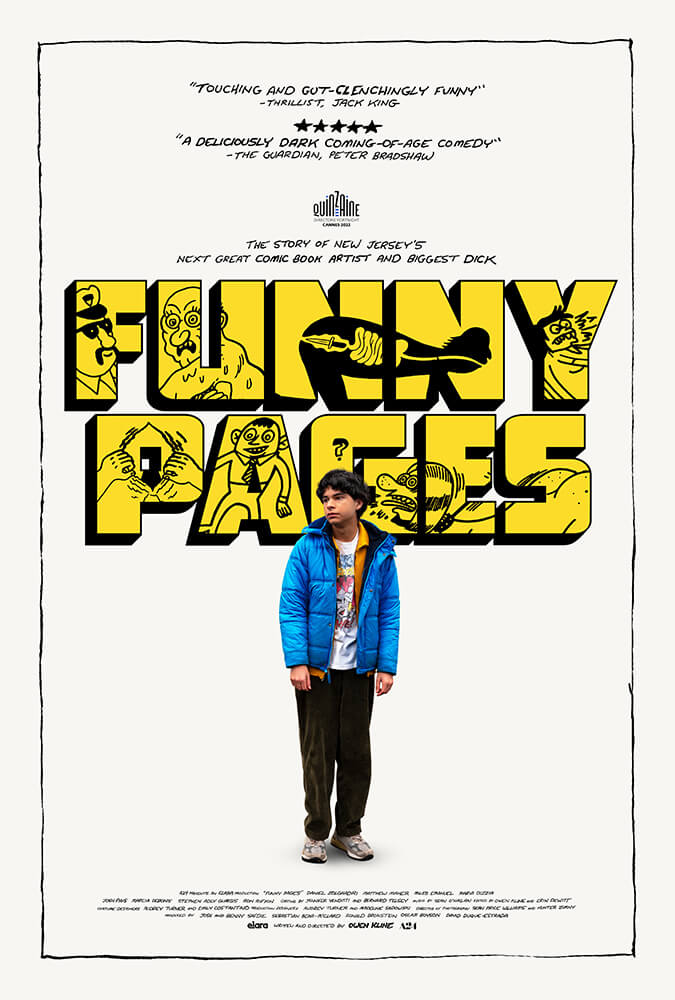 1:20, 3:15, 5:10, 7:05, 9:00 p.m.
1:20, 3:15, 5:10, 7:05, 9:00 p.m.
1:20, 3:15, 5:10, 7:05, 9:00 p.m.
1:20, 3:15, 5:10, 7:05, 9:00 p.m.
"The young director Owen Kline packs worlds of cringe into Funny Pages — shame, disgust, embarrassment, sweaty sexual panic, acres of pustules — it's all here in this terrific, tonally flawless feature debut."
"Funny Pages does many things right, many of those things mixing pain and misery with the humor of pain and the punchlines of misery.
"Funny Pages would program well alongside Crumb or American Splendor, spiritually connected films about difficult personalities that weren't afraid to get a little dirty themselves."
EVENING PRICES
$12.00 | Adults
$9.50 | Students
$8.75 | Children
$8.50 | Military
$8.75 | Seniors
$6.50 | Members
$5.00 | UNL Students
MATINEE PRICES
$10.00 | Adults
$9.00 | Students
$8.25 | Children
$8.00 | Military
$8.25 | Seniors
$6.00 | Members
$5.00 | UNL Students
Matinee priced tickets for all screenings TUESDAY and WEDNESDAY nights
Showtimes change on a regular basis and will not always be the same each day. Visit the individual film pages for a list of showtimes.
Children are 12 and under. Seniors are 60 and older
Students and Military must show a valid ID to receive discount
We accept cash, check, NCard, Visa, and Mastercard
The Ross Box Office opens 30 minutes before the first screening of the day
Assistive listening headsets and closed caption devices available for select titles. Check the individual film pages or inquire at the box office for details.