Date
Sep 22 2023

- Oct 05 2023
Ongoing...
PASSAGES
A gay couple's marriage is thrown into crisis when one of them begins a passionate affair with a younger woman.
Celebrated filmmaker Ira Sachs (Love is Strange) makes a breathtaking return with PASSAGES, a fresh, honest and brutally funny take on messy, modern relationships, starring Franz Rogowski (Great Freedom), Ben Whishaw (Women Talking) and Adèle Exarchopoulos (Blue Is the Warmest Colour). Set in Paris, this seductive drama tells the story of Tomas (Rogowski) and Martin (Whishaw), a gay couple whose marriage is thrown into crisis when Tomas begins a passionate affair with Agathe (Exarchopoulos), a younger woman he meets after completing his latest film.
Perceptive, intimate and unashamedly sexy, Passages sees Sachs bridge his usually tender style with a uniquely European sensibility, providing an insightful and authentic take on the complexities, contradictions and cruelties of love and desire.
Passages is unrated and contains adult content. Viewer discretion is advised.
Franz Rogowski, Ben Whishaw, Adèle Exarchopoulos
HEARING AND VISUAL ASSISTANCE
Assisted Listening
Closed Captioning
Descriptive Audio
On-Screen Open Captions on Sundays and Tuesdays
Some French with English subtitles. All Sunday and Tuesday screenings will include full open captions.
Many of the films shown at The Ross are not rated due to the prohibitive cost of acquiring a rating from the Motion Picture Association of America. Consequently, as many of these films contain graphic content, viewer discretion is advised.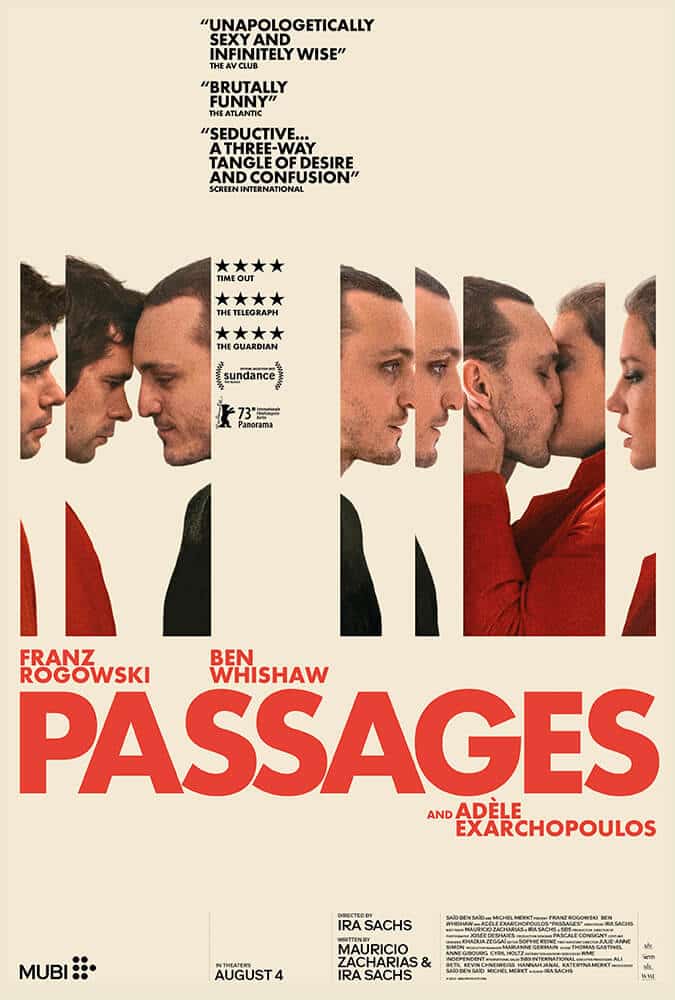 "In Sachs's sensitive hands, Passages becomes something new and strange, not least because the filmmaker is so willing to forthrightly address the consuming sexual attraction that pulls and pushes the three protagonists at nearly every turn."
"Its sophisticated approach to romance (or, perhaps, the absence of it) is not too cool or alienating, because Sachs and his sterling cast give the film such textured, specific life."
"What makes PASSAGES worth watching isn't the bare facts of its plot, but the ways that Sachs's careful, nearly invisible style, matched to his actors, generates all manner of sudden, fluid, intelligent sensations as we watch."
EVENING PRICES
$12.00 | Adults
$9.50 | Students
$8.75 | Children
$8.50 | Military
$8.75 | Seniors
$6.50 | Members
$5.00 | UNL Students
MATINEE PRICES
$10.00 | Adults
$9.00 | Students
$8.25 | Children
$8.00 | Military
$8.25 | Seniors
$6.00 | Members
$5.00 | UNL Students
Matinee priced tickets for all screenings TUESDAY and WEDNESDAY nights
Showtimes change on a regular basis and will not always be the same each day. Visit the individual film pages for a list of showtimes.
Children are 12 and under. Seniors are 60 and older
Students and Military must show a valid ID to receive discount
We accept cash, check, NCard, Visa, and Mastercard
The Ross Box Office opens 30 minutes before the first screening of the day
Assistive listening headsets and closed caption devices available for select titles. Check the individual film pages or inquire at the box office for details.