Date
Mar 17 - 30 2023
Expired!
THE QUIET GIRL
Rural Ireland. 1981. When 9-year-old Cait is sent to live with foster parents for the summer, she learns a new way of living and uncovers a painful truth.
Rural Ireland. 1981. Cáit is a nine-year-old girl from an over-crowded, dysfunctional and impoverished family. Quietly struggling at school and at home, she has learnt to hide in plain sight from those around her.
As summer arrives and her pregnant mother's due date approaches, Cáit (Catherine Clinch) is sent to live with distant relatives. Without knowing when she will return home, she is left at the strangers' house with only the clothes she is wearing. The Kinsellas, a middle-aged couple she has never met, dress the girl in what clothes they have.
They are farming people, like her own, but hard-working and wanting for nothing, it seems. Despite a warm reception from the woman, Eibhlín (Carrie Crowley), the man of the house, Seán (Andrew Bennett), keeps his distance from Cáit and she from him, but over time, their strained relationship begins to deepen. Slowly, in the care of the Kinsellas, Cáit blossoms and discovers a new way of living. But in this house where affection grows and there are meant to be no secrets, she discovers one painful truth.
Catherine Clinch, Carrie Crowley, Andrew Bennett, Michael Patric, Kate Nic Chonaonaigh, Carolyn Bracken
HEARING AND VISUAL ASSISTANCE
Assisted Listening
Subtitled / Open Captions
Irish and English with English Subtitles
for smoking, some strong language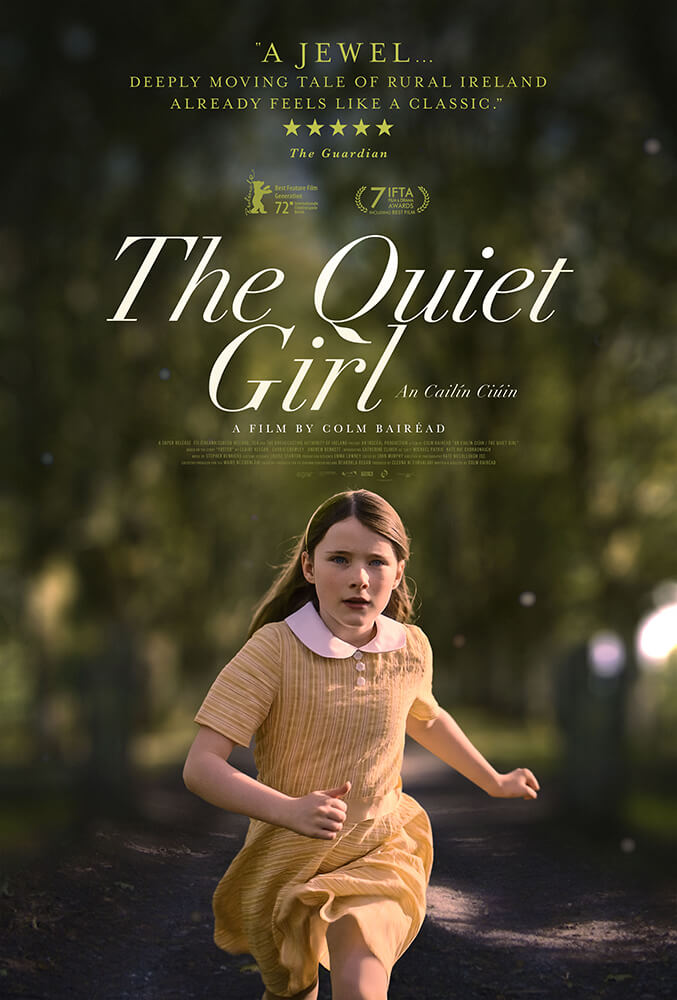 1:05, 3:10, 5:15, 7:15, 9:20 p.m
1:00, 3:05, 5:10, 7:15, 9:20 p.m.
1:00, 3:05, 5:10, 7:15, 9:20 p.m.
"Few films explore both the shelter and the solitude of silence with the eloquence of Colm Bairéad's gently captivating Irish-language drama The Quiet Girl."
"A genuine work of art by a genuinely empathetic artist, and one of the single most moving, heartfelt, and heartbreaking movies from any country in the last decade. That only sounds like hyperbole until you see it."
"There may not be a movie more expressive of the season's benevolent ethos than this hushed work about kith and kindness."
EVENING PRICES
$12.00 | Adults
$9.50 | Students
$8.75 | Children
$8.50 | Military
$8.75 | Seniors
$6.50 | Members
$5.00 | UNL Students
MATINEE PRICES
$10.00 | Adults
$9.00 | Students
$8.25 | Children
$8.00 | Military
$8.25 | Seniors
$6.00 | Members
$5.00 | UNL Students
Matinee priced tickets for all screenings TUESDAY and WEDNESDAY nights
Showtimes change on a regular basis and will not always be the same each day. Visit the individual film pages for a list of showtimes.
Children are 12 and under. Seniors are 60 and older
Students and Military must show a valid ID to receive discount
We accept cash, check, NCard, Visa, and Mastercard
The Ross Box Office opens 30 minutes before the first screening of the day
Assistive listening headsets and closed caption devices available for select titles. Check the individual film pages or inquire at the box office for details.