Date
Sep 02 - 15 2022
Expired!
RESURRECTION
The Norman A. Geske Cinema Showcase sponsored by the Friends of The Ross presents producer and UNL Film & New Media graduate Tory Lenosky, who will be appearing at the 7:30 p.m. screening of RESURRECTION on Friday, September 2 for a Q&A with the audience.
Margaret's (Rebecca Hall) life is in order. She is capable, disciplined, and successful. Soon, her teenage daughter, who Margaret raised by herself, will be going off to a fine university, just as Margaret had intended. Everything is under control. That is, until David (Tim Roth) returns, carrying with him the horrors of Margaret's past.
Rebecca Hall, Tim Roth, Grace Kaufman, Michael Esper, Angela Wong Carbone, Josh Drennan
HEARING AND VISUAL ASSISTANCE
Assisted Listening
Closed Captioning
Descriptive Audio
Please Note: RESURRECTION contains scenes of graphic violence. Viewer discretion is advised.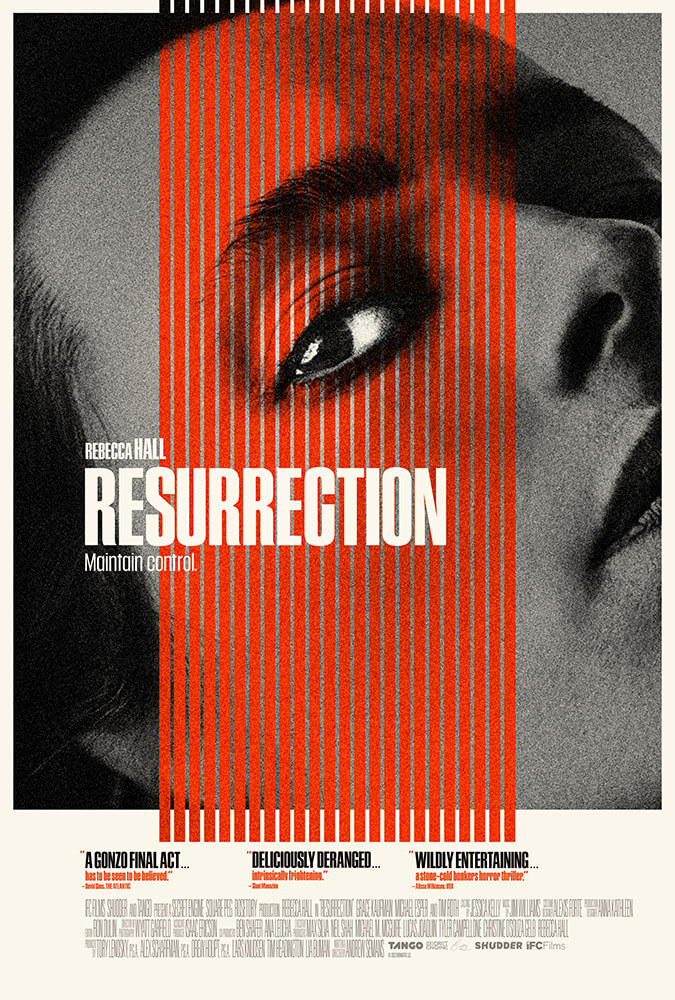 12:20, 2:35, 4:50, 7:05, 9:25 p.m.
12:20, 2:35, 4:50, 7:05, 9:25 p.m.
12:20, 2:35, 4:50, 7:05, 9:25 p.m.
"Resurrection transforms the familiar psychological-thriller setup of an unraveling, hysterical woman into something far more deranged, serving as a jaw-dropping showcase for Hall as she dials up the intensity to palpable levels."
"Writer and director Andrew Semans puts Hall in every scene of this modest but effective thriller, and she comes through with a stunning, charismatic performance…"
"The movie first gets under the skin because its jaw-dropping backstory is just plausible enough to belong to you or someone you love…"
EVENING PRICES
$12.00 | Adults
$9.50 | Students
$8.75 | Children
$8.50 | Military
$8.75 | Seniors
$6.50 | Members
$5.00 | UNL Students
MATINEE PRICES
$10.00 | Adults
$9.00 | Students
$8.25 | Children
$8.00 | Military
$8.25 | Seniors
$6.00 | Members
$5.00 | UNL Students
Matinee priced tickets for all screenings TUESDAY and WEDNESDAY nights
Showtimes change on a regular basis and will not always be the same each day. Visit the individual film pages for a list of showtimes.
Children are 12 and under. Seniors are 60 and older
Students and Military must show a valid ID to receive discount
We accept cash, check, NCard, Visa, and Mastercard
The Ross Box Office opens 30 minutes before the first screening of the day
Assistive listening headsets and closed caption devices available for select titles. Check the individual film pages or inquire at the box office for details.