Date
Nov 11 - 24 2022
Expired!
18 1/2
A 1970s-era Watergate conspiracy thriller/dark comedy about a woman in the Nixon White House who tries to leak the 18 1/2-minute tape to a reporter.
It's January, 1974. The Watergate scandal is at a boiling point. Connie, a low level government stenographer, obtains a tape of Richard Nixon listening to, and then erasing, the infamous 18 1/2 minute gap that would eventually force him to resign the Presidency.
Connie takes the ferry to an isolated Chesapeake Bay town to leak the tape to a reporter, but a broken reel-to-reel player leads the two on a hunt to find a new machine so they can listen to the evidence. Along the way they encounter a Bossa Nova loving couple, a group of conspiracy-obsessed hippies, and nefarious forces working to stop them at every turn.
Willa Fitzgerald, Bruce Campbell, Richard Kind, Jon Cryer, John Magaro, Sullivan Jones
HEARING AND VISUAL ASSISTANCE
for some strong violence, language, and suggestive material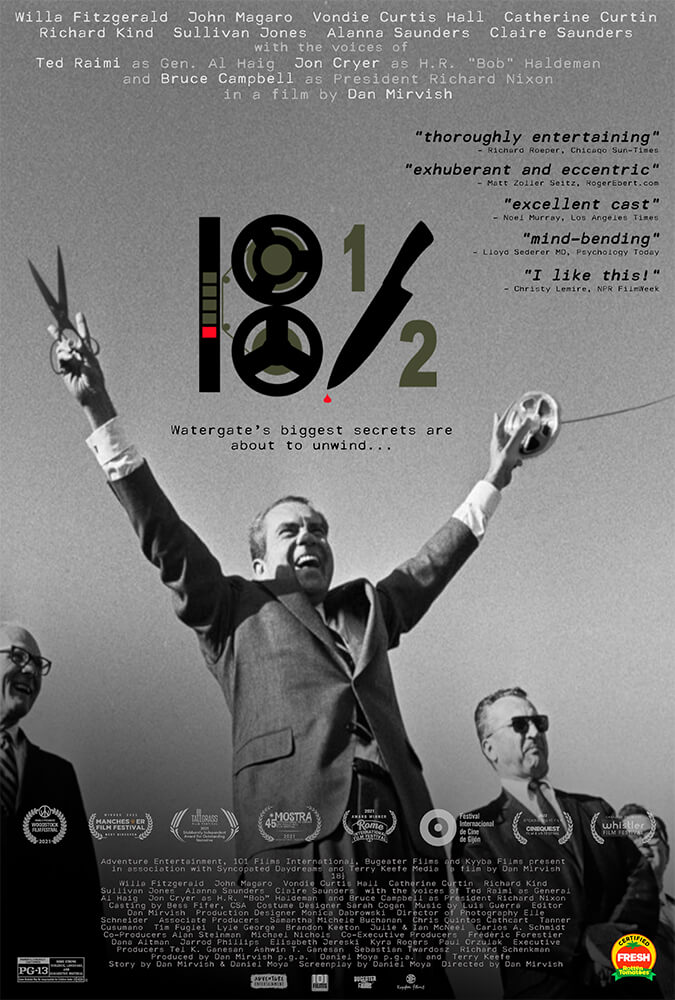 1:00, 3:00, 5:00, 7:00, 9:00 p.m.
1:00, 3:00, 5:00, 7:00, 9:00 p.m.
1:00, 3:00, 5:00, 7:00, 9:00 p.m.
1:00, 3:00, 5:00, 7:00, 9:00 p.m.
"18½ is a unique version of a political thriller, exploring characters through zany moments of comedy and tense moments of paranoia."
"Yes, another Watergate movie, but this one's fun and totally fictional."
"This feature is [Dan Mirvish's] best-directed work and also his most Altman-like."
EVENING PRICES
$12.00 | Adults
$9.50 | Students
$8.75 | Children
$8.50 | Military
$8.75 | Seniors
$6.50 | Members
$5.00 | UNL Students
MATINEE PRICES
$10.00 | Adults
$9.00 | Students
$8.25 | Children
$8.00 | Military
$8.25 | Seniors
$6.00 | Members
$5.00 | UNL Students
Matinee priced tickets for all screenings TUESDAY and WEDNESDAY nights
Showtimes change on a regular basis and will not always be the same each day. Visit the individual film pages for a list of showtimes.
Children are 12 and under. Seniors are 60 and older
Students and Military must show a valid ID to receive discount
We accept cash, check, NCard, Visa, and Mastercard
The Ross Box Office opens 30 minutes before the first screening of the day
Assistive listening headsets and closed caption devices available for select titles. Check the individual film pages or inquire at the box office for details.