Date
Jan 27 2023

- Feb 09 2023
Expired!
LIVING
In 1950s London, a humorless civil servant decides to take time off work to experience life after receiving a grim diagnosis.
Academy Award Nominee: Bill Nighy (Best Actor in a Leading Role) and Kazuo Ishiguro (Best Adapted Screenplay). LIVING sets a high bar for itself in setting out to remake a Kurosawa classic — and director Oliver Hermanus and star Bill Nighy clear it in triumphant fashion. LIVING is the story of an ordinary man, reduced by years of oppressive office routine to a shadow existence, who at the eleventh hour makes a supreme effort to turn his dull life into something wonderful.
Bill Nighy, Aimee Lou Wood, Alex Sharp, Tom Burke
HEARING AND VISUAL ASSISTANCE
Assisted Listening
Closed Captioning
Descriptive Audio
for smoking, some suggestive material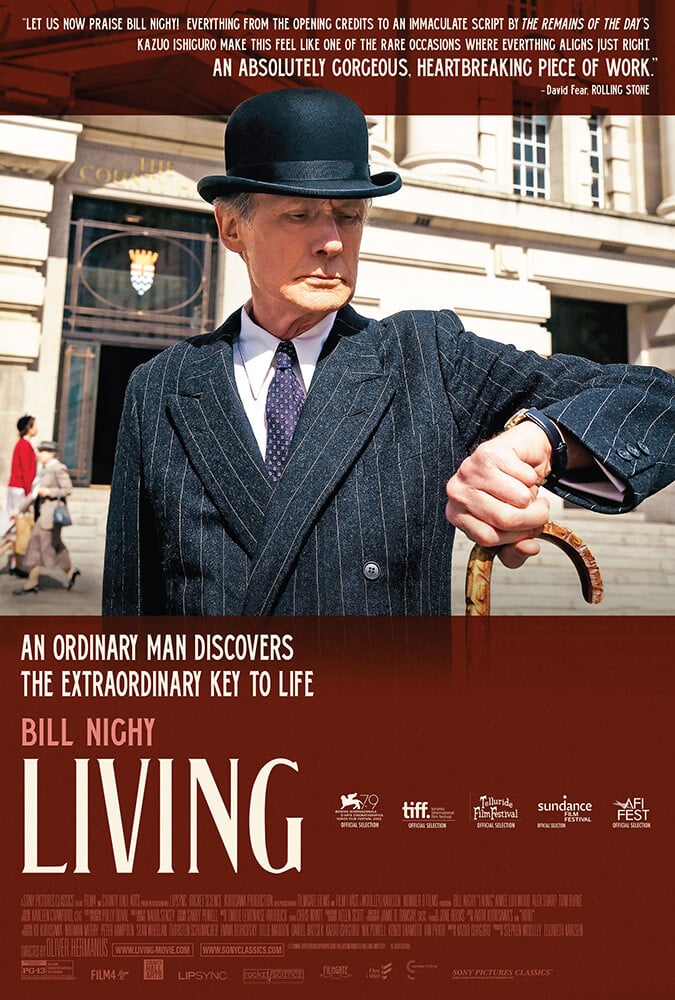 12:30, 2:45, 5:00, 7:15, 9:30 p.m.
12:30, 2:45, 5:00, 7:15, 9:30 p.m.
12:30, 2:45, 5:00, 7:15, 9:30 p.m.
12:30, 2:45, 5:00, 7:15, 9:30 p.m.
"Deeply felt films that look past today's disputes remain rare, which is why
Living
is so refreshing.
"
"An absolutely gorgeous, heartbreaking piece of work."
"A sturdy and thoughtful drama, anchored by a moving lead performance from Bill Nighy and elevated by a handsome sense of style."
EVENING PRICES
$12.00 | Adults
$9.50 | Students
$8.75 | Children
$8.50 | Military
$8.75 | Seniors
$6.50 | Members
$5.00 | UNL Students
MATINEE PRICES
$10.00 | Adults
$9.00 | Students
$8.25 | Children
$8.00 | Military
$8.25 | Seniors
$6.00 | Members
$5.00 | UNL Students
Matinee priced tickets for all screenings TUESDAY and WEDNESDAY nights
Showtimes change on a regular basis and will not always be the same each day. Visit the individual film pages for a list of showtimes.
Children are 12 and under. Seniors are 60 and older
Students and Military must show a valid ID to receive discount
We accept cash, check, NCard, Visa, and Mastercard
The Ross Box Office opens 30 minutes before the first screening of the day
Assistive listening headsets and closed caption devices available for select titles. Check the individual film pages or inquire at the box office for details.