Date
Nov 18 2022

- Dec 01 2022
Expired!
THE NOVELIST'S FILM
A novelist disenchanted with her writing travels to see friends and begins to examine her artistic voice.
Junhee (Lee Hyeyoung, last seen in Hong's In Front of Your Face) is a novelist who's grown disenchanted with her own writing. On a trip to see an old friend, she runs into a film director who was set to adapt one of her novels before the project fell through. One chance encounter leads to another and soon she finds herself having lunch with Kilsoo (Kim Minhee), a well-known actress also questioning her role as an artist. It's then that Junhee has an epiphany: she will make a film starring Kilsoo. It won't be like other films. It will be the novelist's film. For his 27th feature, Hong holds a mirror up to his own artistic process and asks what exactly it is we're looking for from a work of art. As his characters discuss their lives and work and the ways they intertwine, Hong sets down a sort of manifesto for his own inimitable oeuvre before exploding it (or perhaps fully realizing it) in a moving final flourish. With sparkling performances from Lee, Kim and an incredible cast of Hong regulars, THE NOVELIST'S FILM is a summation of Hong's career-long artistic project, even as it signals bold new directions.
Lee Hye-young, Kim Min-hee, Seo Young-hwa, Park Mi-so, Kwon Hae-hyo, Cho Yunhee
HEARING AND VISUAL ASSISTANCE
Assisted Listening
Subtitled/Open Captions
Korean with English Subtitles
Many of the films shown at The Ross are not rated due to the prohibitive cost of acquiring a rating from the Motion Picture Association of America. Consequently, as many of these films contain graphic content, viewer discretion is advised.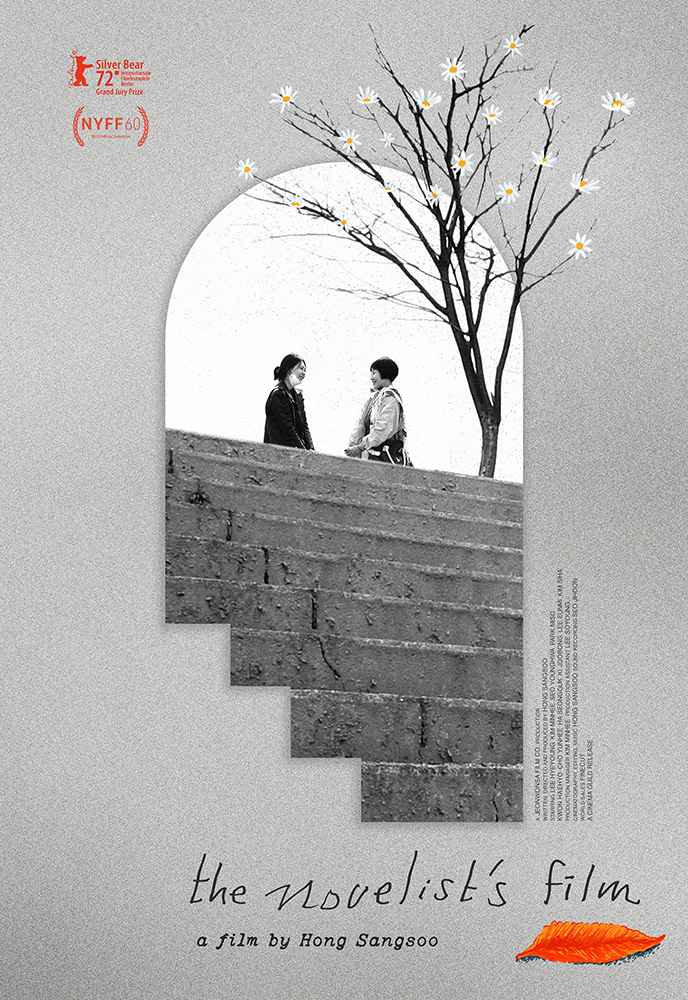 1:15, 3:15, 5:15, 7:15, 9:15 p.m.
1:15, 3:15, 5:15, 7:15, 9:15 p.m.
1:15, 3:15, 5:15, 7:15, 9:15 p.m.
1:15, 3:15, 5:15, 7:15, 9:15 p.m.
"[A] focused, charming autofiction, well-structured yet open to the inspirations of serendipity…Hong has always given viewers the impression that he—or, rather, he and Kim—are making exactly the film they want to make, but rarely before "The Novelist's Film" has it seemed to bring the two of them such pure bliss."
"One of the director's sweetest films, registering ultimately as a touchingly sincere tribute to his life in filmmaking, and to love discovered through art-making."
"There's sly humor and insights into the insecurities of the artistic process for those willing to listen closely to the seemingly inconsequential chatter."
EVENING PRICES
$12.00 | Adults
$9.50 | Students
$8.75 | Children
$8.50 | Military
$8.75 | Seniors
$6.50 | Members
$5.00 | UNL Students
MATINEE PRICES
$10.00 | Adults
$9.00 | Students
$8.25 | Children
$8.00 | Military
$8.25 | Seniors
$6.00 | Members
$5.00 | UNL Students
Matinee priced tickets for all screenings TUESDAY and WEDNESDAY nights
Showtimes change on a regular basis and will not always be the same each day. Visit the individual film pages for a list of showtimes.
Children are 12 and under. Seniors are 60 and older
Students and Military must show a valid ID to receive discount
We accept cash, check, NCard, Visa, and Mastercard
The Ross Box Office opens 30 minutes before the first screening of the day
Assistive listening headsets and closed caption devices available for select titles. Check the individual film pages or inquire at the box office for details.