Date
Sep 09 - 22 2022
Expired!
THE GOOD BOSS
Awaiting a visit by a committee that could give his company an award, Blanco (Javier Bardem), the owner of an industrial scales manufacturing business, tries to resolve his workers' problems.
Básculas Blanco, a Spanish company producing industrial scales in a provincial Spanish town, awaits the imminent visit from a committee which holds its fate in their hands as to whether they merit a local Business Excellence award. Everything has to be perfect when the time comes. Working against the clock, the company's proprietor, Blanco (Javier Bardem) pulls out all the stops to address and resolve issues with his employees, crossing every imaginable line in the process.
Javier Bardem, Almudena Amor, Manolo Solo, María de Nati, Óscar de la Fuente, Celso Bugallo
HEARING AND VISUAL ASSISTANCE
Assisted Listening
Subtitled/Open Captions
Spanish with English Subtitles
Many of the films shown at The Ross are not rated due to the prohibitive cost of acquiring a rating from the Motion Picture Association of America. Consequently, as many of these films contain graphic content, viewer discretion is advised.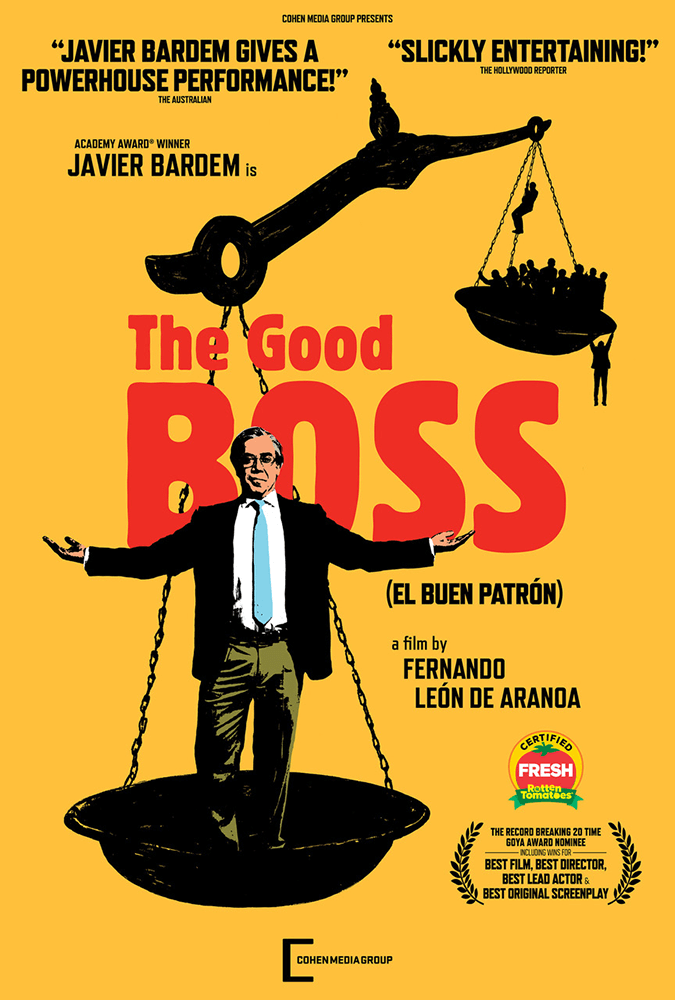 11:45 a.m., 2:15, 4:45, 7:15, 9:45 p.m.
11:45 a.m., 2:15, 4:45, 7:15, 9:45 p.m.
11:45 a.m., 2:15, 4:45, 7:15, 9:45 p.m.
11:45 a.m., 2:15, 4:45, 7:15, 9:45 p.m.
"The Good Boss is designed to be an acting tour de force for Bardem, and it's certainly that… It's a memorably dominating performance."
"With a style reminiscent of the Coen brothers' trademark cinematic sarcasm, especially in their quirkier works like "Burn After Reading," León de Aranoa artfully spins a story (which he also wrote) of bad behavior trying to pass itself off as good."
"It's a comedy, but no laughing matter. It's the blackest of satires — the kind in which a smiling face hides a monstrous heart."
EVENING PRICES
$12.00 | Adults
$9.50 | Students
$8.75 | Children
$8.50 | Military
$8.75 | Seniors
$6.50 | Members
$5.00 | UNL Students
MATINEE PRICES
$10.00 | Adults
$9.00 | Students
$8.25 | Children
$8.00 | Military
$8.25 | Seniors
$6.00 | Members
$5.00 | UNL Students
Matinee priced tickets for all screenings TUESDAY and WEDNESDAY nights
Showtimes change on a regular basis and will not always be the same each day. Visit the individual film pages for a list of showtimes.
Children are 12 and under. Seniors are 60 and older
Students and Military must show a valid ID to receive discount
We accept cash, check, NCard, Visa, and Mastercard
The Ross Box Office opens 30 minutes before the first screening of the day
Assistive listening headsets and closed caption devices available for select titles. Check the individual film pages or inquire at the box office for details.